Having celebrated its 25th anniversary in 2020, Dancewave reflects on its humble start in a small office at the YWCA on Atlantic Avenue, its persistence shaping the dance education field in Brooklyn, and the 35,000 students, teachers, artists, parents and audience members it has touched through its innovative programming. With the opening of its brand new dance and community center in the heart of growing Gowanus in June 2019, Dancewave is poised to expand its capacity to provide transformative dance experiences to people of all ages and abilities unlike ever before.
DANCEWAVE BEGINNINGS WITH FOUNDER DIANE JACOBOWITZ
An LIU Dance Professor at the time, Jacobowitz founded Dancewave in 1995 with a singular event, the Kids' Cafe Festival, highlighting a diverse group of young dancers and bringing them into top-tier performing arts venues including BAM and The Kitchen. This new concept not only inspired choreographers like Mark Morris, who saw new life spring from their choreography when performed by Dancewave students, but also provided a platform for Jacobowitz to build consistent educational programs in local schools and community spaces. Since then, Dancewave has continually expanded its public school and community residencies, offering an average of 35 residencies in schools and senior centers serving 6,000 New Yorkers annually in all five boroughs.
Jacobowitz developed a dynamic training model that connects student dancers directly with internationally renowned choreographers, carving a new space for young voices in conversation with the professional dance community. The Dancewave Youth Company received international attention after its performance at the Aberdeen International Youth Festival in 2010, the only American representative in attendance that year. Our vast network of skilled teaching artists permeates the creative community across New York, connecting world-renowned teaching artists to young dancers and preparing them technically and creatively for robust careers in the arts and beyond.
Jacobowitz's innovative new youth company model launched performing opportunities with choreographers like Meredith Monk, Trisha Brown, Paul Taylor, Kyle Abraham, Camille A. Brown and many more, at venues including Jacob's Pillow Dance Festival, the Aberdeen International Youth Festival in Scotland, the Metropolitan Museum of Art, and more.
---
DANCEWAVE'S ECONOMIC IMPACT
Dancewave's economic impact over its 25 years has been immense:
○ Creates jobs for thousands of teaching artists and choreographers
○ Dancewave Through College & Beyond facilitated $13 million in college tuition scholarships to date
○ Our new Artist-in-Residence Program awards four emerging artists per year a stipend for 60 hours of rehearsal space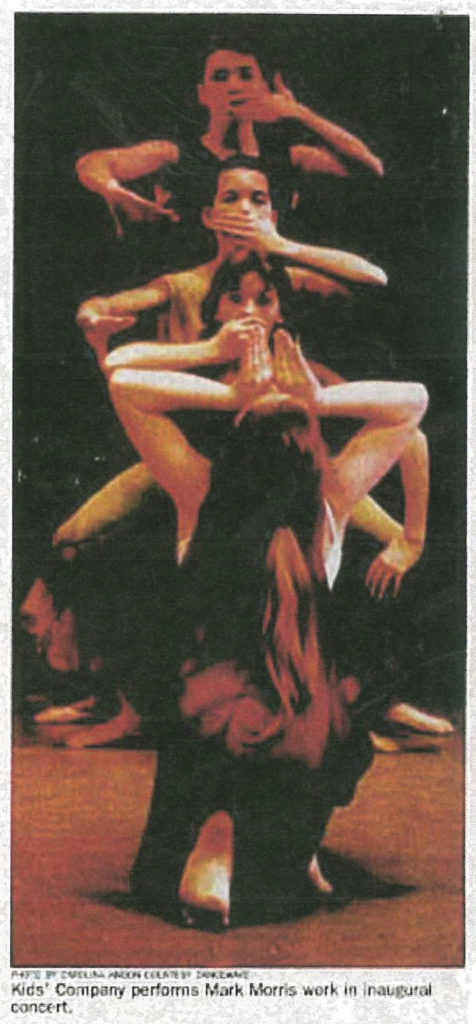 Dancewave's Youth Company students performed choreography from Mark Morris' Masterpiece "L'Allegro, il Penseroso ed il Moderato" in its first public performance.