Through its first-ever Artist-in-Residence (A.I.R.) Program, Dancewave is excited to facilitate the growth and creation of new choreographic works by emerging and establishing dance artists in the greater New York City area.
Dancewave invites two artists or companies with professional experience to be in-residence at Dancewave in Fall 2019 and Spring 2020. The 6-week residencies include 60 hours of rehearsal space at Dancewave; hosting Youth and Adult Master Classes; free public performance of the new work; and a stipend.
Fall 2019 Artist-in-Residence Recipients:
Erin Carlisle Norton ○ The Moving Architects
In Residence September 8 – October 19, 2019
○ Adult Master Class: Friday, September 27 | 12:00-2:00pm | Register here
○ Youth Master Class: Tuesday, October 8 | 6:00-7:30pm
○ Informal Performance Showing: Saturday, October 19 | Time TBA | Free and open to the public
Erin Carlisle Norton is Artistic Director of the nonprofit female-centric dance company The Moving Architects. TMA hosts and produces the dance interview podcast Movers & Shapers: A Dance Podcast and leads the pay-what-you-can movement program Community Movement Project in NJ.
During their Fall 2019 residency at Dancewave, The Moving Architects will use the time and space to further develop "The Recollection", a multi-disciplinary dance-based female-centric work. The work's full vision uses dance, projections, a 1000 square foot inflatable bubble, and original music to explore both the tenuous and sentimental threads between memory and reality. "Collaborating with members of TMA and visual artist gwen charles, we see the work inhabiting and exploring personal and societal memories that run the course of a lifetime, from intimate individual stories and family legacies, to cultural retention of women's societal traditions and social norms." – Erin Carlisle Norton (Photo by Rachel Neville) www.themovingarchitects.org
Brinda Guha ○ Kalamandir Dance Company
In Residence October 14 – November 23, 2019
○ Adult Master Class: Friday, November 1 | 12:00-2:00pm | Register here
○ Youth Master Class: Tuesday, November 12 | 6:00-7:30pm
○ Informal Performance: Saturday, November 23 | Time TBA | Free and open to the public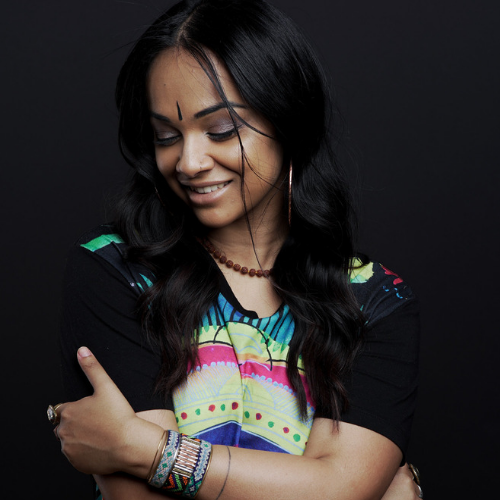 Brinda Guha is a trained North Indian classical Kathak dancer with experience in Contemporary, Manipuri and Flamenco. She is the director of Kalamandir Dance Company and a principal dancer of the all-female multicultural percussive trio, Soles of Duende. She is also the curator of the Wise Fruit NYC seasonal live arts showcase. Kalamandir Dance Company is committed to creating empathy and understanding of cultural diversity within the NYC artist diaspora. The storytelling of their work reflect aspects of the current state of society through the realm of Brinda Guha's signature movement vocabulary, #ContemporaryIndian dance.
"WomanKIND is a study of the feminine divine. On our journey of finding where #ContemporaryIndian movements marries our personal movement styles and ideologies, we will also find out where our deepest truths lie as women-identified individuals walking the streets of New York City. In order to find this fusion, we create a safe space for guided introspection — understanding Kalamandir's collective and individual stories of how and why the dancers of the collective move and express the way they do, exploring their cultural backgrounds, life experiences & training, we use those discoveries to communicate with world music and dance (specifically Indian music and dance) and tell our stories that help us see our own WomanKIND." – Brinda Guha (Photo by Brian Thomas) www.kalamandirdanceco.com | www.brindaguha.com
A.I.R. Rehearsals and events at the New Dancewave Center, 182 4th Ave in Gowanus, Brooklyn
Please check back soon for our Spring Artist-in-Residence application!