COVID-19 UPDATE

The Dancewave Center in Gowanus, Brooklyn is currently closed, as determined by citywide closures in response to the COVID-19 crisis. Currently our Artist-in-Residence program is on hold until we have a detailed reopening guidelines from government officials. We look forward to rescheduling our Spring 2020 A.I.R. performances and rehearsals as soon as we are able. Please join our mailing list for the earliest updates.
Through its first-ever Artist-in-Residence (A.I.R.) Program, Dancewave is excited to facilitate the growth and creation of new choreographic works by emerging and establishing dance artists based in the greater New York City area. Dancewave's A.I.R. program is made possible, in part, through a grant received by the Emma A. Shaefer Charitable Trust.

Dancewave invites two artists or companies with professional experience to be in-residence for 6 weeks at Dancewave in Fall 2019 and Spring 2020. Dancewave A.I.R.s receive a stipend for 60 hours of rehearsal space at Dancewave, host Youth and Adult Master Classes, and produce a free public performance of their new work. Please join us in welcoming our Spring 2020 Artists-in-Residence, and visit the Dancewave Center for their open events!
SPRING 2020 ARTISTS-IN-RESIDENCE:
Rohan Bhargava ○ Rovaco Dance Company
In Residence February 10 – March 21, 2020
○ Adult Master Class: Sunday, March 1 | 12:00-1:30pm | Register here
○ Youth Master Class: Tuesday, March 10 | 6:00-7:30pm
○ Informal Performance: Saturday, March 28, 7:30pm | Free and open to the public | RSVP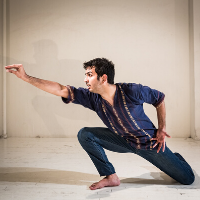 Born and raised in New Delhi, Rohan Bhargava is the Choreographer and Artistic Director of Rovaco Dance Company and recently named one of Dance Magazine's "Immigrants Who've Inspired Us." Rohan received a B.F.A. in Dance at NYU and currently works for Greater Ridgewood Youth Council, Kizuna Dance, Periapsis Music and Dance, and 10 Hairy Legs.
Bhargava's highly collaborative performance group transforms and translates recognizably human characters with clear emotional arcs who, through the exhilarating lens of their virtuosity, unearth the cathartic in the everyday. Rovaco Dance Company's new work embraces individuality through a conscious examination of cultural identity, heritage, language, and societal norms. Noticing the many ways that Indian culture has been appropriated in the Western hemisphere, Bhargava challenges our audience to consider their own relationship to their culture. How do cultural experiences manifest in our body language, movement vocabulary, speech, and theatricality? In processing our shared human experiences in a collaboratively cohesive environment, Rovaco aims to build community, spark vital conversations, and reflect on societal and interpersonal issues of today.
Rovaco Dance Company Team:
Choreographer: Rohan Bhargava
Music Composer/Designer: Saul Guanipa
Dancers: Sanklap Sharma, Devika Chandnani, Rohan Bhargava
Rehearsal Manager: Nico Gonzales
www.rovacodance.com | @rovacodance
Winston Dynamite Brown & Latra Ann Wilson ○ The DynamitExperience
In Residence March 16 – April 25, 2020
○ Adult Master Class: Sunday, March 29 | 12:00-1:30pm | Register here
○ Youth Master Class: Tuesday, April 7 | 6:00-7:30pm
○ Informal Performance: Saturday, April 25 | 7:30pm | Free and open to the public | RSVP
The DynamitExperience (TDE) is a dance company that creates visceral experiences through contemporary choreography and community engagement. Speaking to the diversity and differences that exist along the separation of the Missouri River, TDE's new work "M/O" depicts the energy of Co-Artistic Director Winston Brown's hometown of Kansas City, MO, through athletic postmodern movement and creative investigations grounded in community conversations.
TDE kicked off its first season with The Inaugural Show at The Mark O'Donnell Theater at The Actors Fund Theater in Brooklyn, NY in January 2019. That introduction revealed a small glimpse of the trajectory of the budding company and an insight into the direction of The DynamitExperience's current creative inclinations. Developing work decidedly for and about the people, TDE works through inclusive subject matter and vocabulary, making Dancewave's open-to-all community space a perfectly suited environment for the next stages of this work. (Photo by Rebecca Oviatt/Becca.Vision)
The DynamitExperience Team:
Winston Dynamite Brown: Co-Artistic Director
Latra Ann Wilson: Co-Artistic Director
Rebecca Oviatt: Resident photographer/Videographer/Admin
Tara Bellardini: Rehearsal Assistant/Admin
@thedynamitexperience
All A.I.R. rehearsals, classes and events are held at the Dancewave Center, 182 4th Ave in Gowanus, Brooklyn