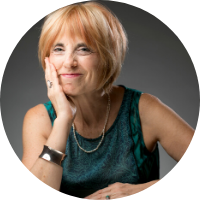 DIANE JACOBOWITZ
Dancewave Founder, Executive & Artistic Director; Lifetime Achievement Awardee
Diane Jacobowitz (BFA, Ohio State University; MFA, Connecticut College) has a distinguished career in performing, choreography and arts administration. She has taught dance to youth and adults of all ages and backgrounds for 26 years at numerous institutions. She has directed and taught at several programs including the Dance Department at Westchester Music and Arts Camp and Hunter College Dance Department. She was instrumental in establishing the Dance Major at Long Island University, where she was a professor for 9 years teaching ballet, modern, choreography, aerobics and speech. She taught and directed the middle school dance program and after school dance elective at the Berkeley Carroll School in Park Slope for 6 years.
Diane choreographed and directed her own company, the Diane Jacobowitz Dance Theater for 15 years, during which time, the company toured, performed and engaged in residencies throughout the Northeast. Her company, DJDT performed at BAM in 1992. Diane has also performed with several prominent choreographers including Kenneth King, Marta Renzi, Grethe Holby, Kathy Duncan and Annabelle Gamson. She founded Dancewave in 1995 with the mission of bringing dance to a broad spectrum of the city youth population, particularly to those talented dancers who lacked the means to afford pre-professional training. Her main focus has been working with young people as artists in the making and connecting them early to the rigor of high-level performance and exposure to world renowned dance artists.
As Executive/Artistic Director of Dancewave for the past 25 years, she has developed innovative programming to capture the talents and imagination of young dancers. Some of the programs she has developed, in addition to the Dancewave Company model, include Dancewave Through College and Beyond, the Dance Career Symposium and the Kids Cafe Festival. Under her leadership, Dancewave currently reaches over 6,000 young people citywide through programs both at the Dancewave School and in partnership with over ten New York City public schools. She also led the campaign for Dancewave's capital project – the opening/launch of a brand new dance center in downtown Brooklyn in June 2019.
JUMAANE WILLIAMS
NYC Public Advocate of the City of New York; Gala Honoree
Jumaane D. Williams is the Public Advocate of the City of New York. Previously, he served on the NYC Council representing the 45th District. Jumaane is a first-generation Brooklynite of Genadian heritage. He graduated from the public school system, overcoming the difficulties of Tourette's and ADHD to earn a Master's Degree from Brooklyn College. He began his career as a community organizer at the Greater Flatbush Beacon School and later served as the Executive Director of NYS Tenants & Neighbors. There, he fought for truly affordable, income-targeted housing across New York City and State. In the NYC Council, Jumaane championed landmark legislation that fundamentally transformed policing in NYC. Jumaane sponsored the Community Safety Act, reforming the City's Police Department by ending the abuse of Stop, Question & Frisk in communities of color and creating the NYPD's Office of Inspector General to investigate unlawful & unethical behavior. Jumaane has led the fight for better policing and safer streets, affordable housing, and transparency and accountability in City government. As Public Advocate, Jumaane continues to be an activist-elected official who brings the voices of everyday New Yorkers to City government, fighting to make New York a truly progressive beacon for all.
GRACE R. FREEDMAN, PHD
Dancewave Past Board Chair & Capital Campaign Co-Chair; Gala Honoree
Dr. Freedman is a long-time Brooklyn resident and community advocate, committed to improving arts, dance, educational opportunities for NYC's youth. She has been a volunteer and champion of Dancewave for over ten years, including 6 years on the Board, serving in various roles: Board Chair, Development Chair, Gala Co-Chair and Co-Chair of the recent successful Capital Campaign.
Currently, she is Director of Development at Beam Center, a youth-centered educational nonprofit. Her past work includes public health research at Columbia University and the New York Academy of Medicine and adjunct professor position at New York University. She is deeply committed to improving her own neighborhood as co-chair of Forth on Fourth Avenue (FOFA), a committee of the Park Slope Civic Council.
Dr. Freedman has a Ph.D. from Columbia University in Sociomedical Sciences (Political Science/Public Health).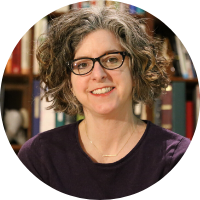 SABRINA LEBLANC
Dancewave Outgoing Board Chair & Capital Campaign Co-Chair; Gala Honoree
Ms. LeBlanc spent more than 14 years helping millions of people lose weight at Weight Watchers. She was part of the team that founded WeightWatchers.com, establishing one of the Internet's first and most successful subscription-model businesses. She was also a driving force behind many new products and services that combined the latest scientific research with consumer insights. Prior to Weight Watchers, she worked in equity research. She currently sits on the boards of Justice in Motion, a Brooklyn-based nonprofit that protects workers rights across borders, and the Prospect Park Alliance. In addition, she serves as the co-President of the Brooklyn Friends and Families Association at Brooklyn Friends School.
MELANIE HAMRICK
Former American Ballet Theatre Dancer; Gala Guest Artist & Presenter
Melanie Hamrick is from Williamsburg, Virginia. She graduated from the Kirov Academy of Ballet where she studied under Alla Sizova, Nikolai Morozov and Adrienne Dellas.
Hamrick has attended the summer programs at the School of American Ballet and American Ballet Theatre. In 2003 she joined the ABT Studio Company and in 2004 joined the main company of American Ballet Theatre. Over her career Hamrick has worked with Alexei Ratmansky, Christopher Wheeldon, Benjamin Millepied, Twyla Tharp, Kevin McKenzie, Mark Morris, Julie Kent, Diana Byer and numerous others. 
In 2019, Hamrick began choreographing with her colleague Joanna DeFelice. They have worked at the Mariinsky Theatre in St. Petersburg, Russia and choreographed for the 25th anniversary of Youth America Grand Prix at Lincoln Center. After 16 years with American Ballet Theatre, Hamrick retired this fall and is excited to choreograph and develop new dance projects.  
Hamrick's extensive classical repertoire includes Calliope in Apollo, lead D'Jampe, a Shade and Pas d'Action in La Bayadère, the Fairy Winter in Cinderella, Prayer in Coppélia, an Odalisque in Le Corsaire, a Flower Girl in Don Quixote, Moyna in Giselle, Caroline in Jardin aux Lilas, Olympia in Lady of the Camellias, the Spanish Dance in The Nutcracker, a Harlot in Romeo and Juliet, Candide (Sincerity) in Ratmansky's The Sleeping Beauty, the Fairy of Sincerity in The Sleeping Beauty, a big swan, the pas de trois and the Spanish Dance in Swan Lake, the Prelude and Mazurka in Les Sylphides, Diana and Terpsichore in Sylvia and roles in After You, Dark Elegies, Duets, Everything Doesn't Happen at Once, From Here On Out, Gong and Raymonda Divertissement. She created the role of one of The Nutcracker's Sisters in Alexei Ratmansky's The Nutcracker, the Sapphire Fairy in Ratmansky's The Sleeping Beauty and roles in AfterEffect and Private Light.
JOANNA DEFELICE
Producer, Artist & Dancer; Gala Guest Artist
Joanna DeFelice is a freelance producer, artist, and dancer based in Brooklyn Heights. A graduate of the Kirov Academy of Ballet she trained under Alla Sizova, Nikolai Morozov and Adrienne Dellas. Joanna has worked with Debbie Allen on numerous shows at the Kennedy Center and in Los Angeles and has toured internationally with Peridance Contemporary Dance Company. She has performed works by Igal Perry, Ohad Naharin, Robyn Mineko Williams, Bryan Arias, Macia Del Prete and Kristin Sudeikis, among others.
As a producer, Joanna has worked on projects with major brands such as Travel and Leisure, Target, and Honda. She has been commissioned as a set and technical designer for multiple art installations across the United States. Joanna currently teaches dance, choreographs and produces events around the country, where she constantly explores the depths of dance, music, and design.
JOSE SEBASTIAN
American Ballet Theatre Dancer; Gala Guest Performer
Jose Sebastian, a native of New York City, started his dance training at age 8 with the School of American Ballet and continued training there for nearly 10 years.
Sebastian joined ABT II in 2006 and American Ballet Theatre as an apprentice in January 2009 and became a member of the corps de ballet in January 2010. His repertoire with the company includes Von Rothbart and the Spanish Dance in Swan Lake, Jaseion in Sylvia, leading roles in AFTERITE, Serenade after Plato's Symposium and Thirteen Diversions, and featured roles in Company B, Dream within a Dream (deferred).
In 2019 Jose founded the Hamptons Dance Project and is the artistic director.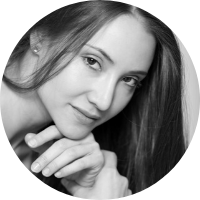 CHRISTINE SHEVECHENKO
American Ballet Theatre Dancer; Gala Guest Performer
Christine Shevchenko was born in Odessa, Ukraine where she trained in rhythmic gymnastics and ballet at an Olympic School. After moving to the United States, she trained extensively for nine years at Pennsylvania Ballet's Rock School. In 2003, Shevchenko became the youngest recipient of the Princess Grace Award and has won numerous awards throughout her career.
Shevchenko joined American Ballet Theatre in 2007 and was promoted to Principal Dancer in 2017. She has performed internationally and worked with the top choreographers such as Twyla Tharp, Alexie Ratmansky, Benjamin Millipied, Wayne McGregor, Christopher Wheeldon, Mark Morris and numerous others.
Some of her favorite repertoire includes Apollo, La Bayadère, Cinderella, Le Corsaire, Don Quixote, Firebird, Giselle, Manon, The Nutcracker, The Sleeping Beauty, Swan Lake, and In the Upper Room. Christine is honored to be a part of the 25th anniversary Dancewave Gala.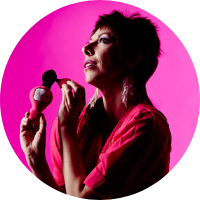 TRUDEE
Dance Artist & Comedian; Gala Auction Host
TruDee is a formidable dance artist and storyteller from Tuckahoe, NY. She began her dance training at the age of five in ballet, tap and aerobics under the tutelage of Miss Belinda in the local parks and recreation department. Her love of theater emerged later on through the coveted role of the Virgin Mary in the church nativity play. In her senior high school drama class she wrote and performed in her first one woman play as the prima ballerina Margot Fonteyn.
TruDee, an elusive genre straddler, has gone on to share her dance stories at Joe's Pub, American Dance Festival, Chicago Contemporary Circus Festival, and the beloved West Village drag bars Boots & Saddle and Stonewall Inn. SILO and Marble House Project and Djerassi Artist Residency have hosted her musings and creative exercises. She has created dances and led workshops in performance for Advanced Curation and the Borough of Manhattan Community College.
TruDee would like you to also note that she is an award winning lip sync artist, ribboned competitive speed walking champion and holds the title as the youngest member of her church choir joining the ranks at the age of 11. You can follow her on Instagram @yourstrudee (Photo by Whitney Browne)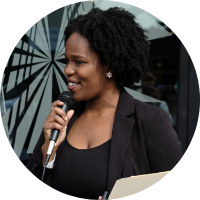 YAMA OGE
Dancewave Development Associate; Gala MC
Yama Oge holds a BA in Arts Management from the State University of New York at Purchase College. Yama has had arts administration internships at Cherry Lane Theatre and Westchester Philharmonic. She has supported Cherry Lane Theatre in its annual gala fundraising efforts. While at the Westchester Philharmonic, Yama contributed to the maintenance of the organization's online platforms for promoting events.
Yama grew up in Westchester County, New York and is a proud White Plains native. She is passionate about using her administrative abilities and fundraising experience to create positive social change through art.