WEDNESDAY, APRIL 22, 2020501 Union Street, Brooklyn, NY6:00-7:00pm Cocktail Hour ○ 7:00-10:00pm Event Program, Live Performances & Dinner
Join us for our annual fundraiser party for Dancewave! This year, we are delighted to welcome our friends and families to celebrate Dancewave's 25th year of transformative dance education in Brooklyn. Ticket sales and donations will support Dancewave's Youth Scholarships, Community Dance Residencies, Artist-in-Residence Program and Dancewave Through College & Beyond. Stay tuned for Gala 2020 Honoree Announcements in February!
GALA TICKETS:

$250 ○ Individual Ticket
$2,250 ○ VIP Table for 8 Guests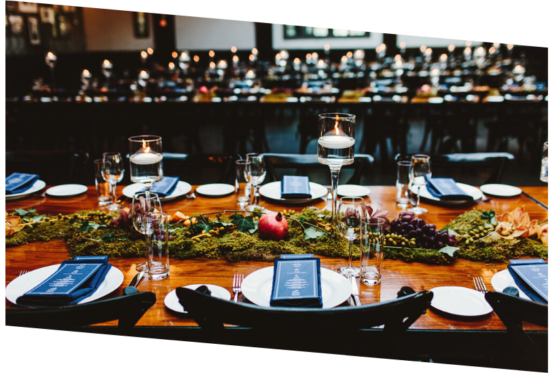 PAST DANCEWAVE HONOREES
April 10, 2019 ○ The Green Building, Brooklyn
Honorees: Josh Bergasse, Emmy Award Winning and Tony Nominated Choreographer ○ Carol K. Walker, Dance Department Chair, Hunter College ○ Jimmy Van Bramer, NYC City Council Member; Chair, Committee on Cultural Affairs ○ Peter Lambrakis, President, XBR, Inc.
April 25, 2018 ○ The Green Building, Brooklyn
Honorees: Wendy Whelan, Former Principal Dancer, NYC Ballet ○ Jawole Willa Jo Zollar, Founder and Visioning Partner, Urban Bush Women ○ Al Wiltshire, National Grid Foundation ○ Jo Anne Simon, New York State Assemblymember
April 26, 2017 ○ Roulette, Brooklyn
Honorees: Jody Gottfried Arnhold, Dance Educator and Advocate, Founder, Dance Education Laboratory (DEL) 92Y ○ Camille A. Brown, Choreographer, Educator, Artistic Director of Camille A. Brown & Dancers ○ Senator Velmanette Montgomery, 25th State Senate District
April 20, 2016 ○ Roulette, Brooklyn
Honorees: Mia Michaels, Creator, Director, Choreographer ○ Wendy Evans Joseph, Architect & Founder, Studio Joseph ○ Laurie Cumbo, NYC City Council Member
April 29, 2015 ○ Roulette, Brooklyn
Honorees: Paloma Herrera, Principal Dancer, American Ballet Theatre ○ Stephen Levin, NYC City Council Member ○ Saundra Thomas, WABC-TV
May 8, 2014 ○ BAM Fisher
Honorees: Eric Adams, Brooklyn Borough President ○ Wendy Perron, Editor at Large, Dance Magazine ○ Lance Pinn, Founder & President, Brooklyn Boulders
April 22, 2013 ○ BAM Fisher
Honorees: Harvey Lichtenstein, President Emeritus, Brooklyn Academy of Music ○ Carlo A. Scissura, President & CEO, Brooklyn Chamber of Commerce ○ Kyle Abraham, Artistic Director, Abraham.in.Motion