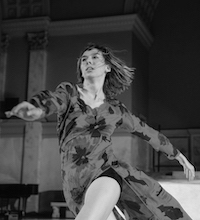 Modern ○ Adult Modern Company Coach

Marion is a New York-based dance artist, dance maker, and dance educator. She teaches Beginning Modern, Intermediate Modern, and directs the Adult Modern Company at Dancewave.
She facilitates classes that nurture a safe space for imagination, risk and rigor. Marion's work has been presented by Danspace Project (DraftWork), Gibney (Work Up), Brooklyn Studios for Dance (SoundStep), Green Space, Triskelion Arts, Movement Research at Judson Church, Center for Performance Research (Fall Movement), Amherst College, Dance Now NYC Festival, and the Domestic Performance Agency. Her work is an energetic and tonal collaging. Sourcing imagination, desire, and our very real world, her dances call for transformation and an undoing of ourselves, inviting us to feel, ask questions, and consider what else both imaginatively and constructively. Marion currently dances for Kendra Portier, Laura Peterson Choreography and Kinesis Project dance theatre. Since moving to New York she has had the pleasure of working with Michelle Boulé, Athena Kokoronis, Stephan Koplowitz, Annie Kloppenberg, Shaun Irons & Lauren Petty, Shandoah Goldman, Vanessa Justice, Hollis Bartlett, Michiyaya, and apprenticed with David Dorfman Dance. She also teaches at Gibney and Greenwich Country Day School. Marion graduated with honors from Vassar in 2009, where she studied Geography-Anthropology.
Visit Marion's website.
Photo credit: David Gonsier