Dancewave's signature residency program provides high-quality, c
ustomized dance experiences 
for 
Schools, Community Centers,
Organizations, Corporations,
and
Companies.
Benefits of a Dancewave Residency
○ Wide-reaching. Dancewave serves youth, seniors and intergenerational groups
○ Adaptable. Programs accommodate in-school and after-school scheduling
○ Customizable. Residencies are designed to meet the unique needs of the group
○ High Quality. Dancewave's Teaching Artists are trained in restorative practices & social emotional learning
○ Effective. Residencies utilize best practices from NYC Blueprint for Teaching & Learning, National Core Arts Standards and the Dancewave Culture Model
○ Fun. Programs provide in-school and community performance opportunities
○ Vetted. Dancewave is a registered DOE vendor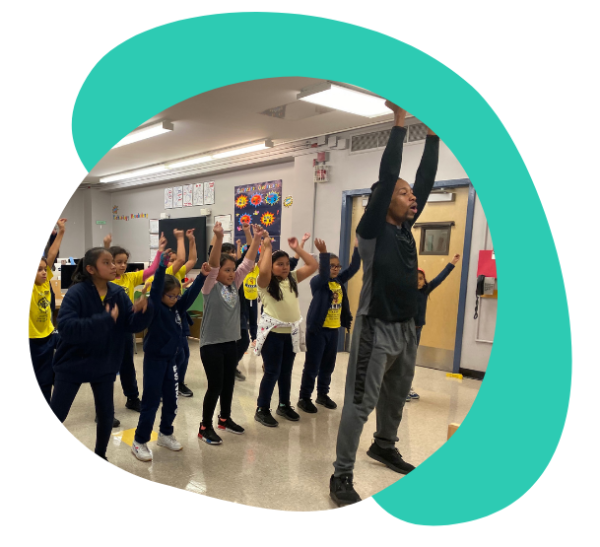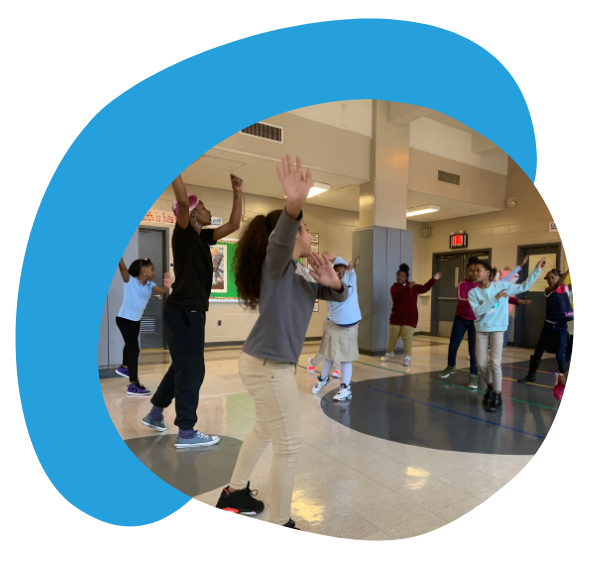 Create your own unique Curriculum
Meet with our Residency Coordinator to create a program tailored to your specific needs. Decide between synchronous or asynchronous sessions and choose between our wide variety of curriculum branches.
MOVEMENT AND DISCUSSION FOCUSED
Create a safe and brave space for youth to confront bias and racism while engaging in antiracist advocacy. This program integrates a discussion and movement-based framework rooted in Social Emotional Learning practices including dance disciplines such as African Diasporic Forms, Vernacular Jazz, American Social Dances, Hip Hop, and dance TikTok trends.
Students will develop a deeper understanding of identity politics, art as a tool for activism, and how to effectively organize within a community while cultivating project management and leadership skills.
Dancewave's Youth Leadership Workshop holds space for youth to dialog, connect, and support each other as they learn about social justice, community organizing, and advocacy. Students learn about their relationship to larger systems and how to work together to build power and enact change!
Explore themes related to self-identity, social justice, and making meaning through movement. The program integrates art, movement, skill-building, mental health, and restorative practices for youth to develop their own unique voices through an embodied experience.
Students are given the tools to generate their own choreography, while building skills in critical movement analysis and dance artistry. Throughout the workshop dancers will explore current events and share reflections on our world today through movement. 
To set up a meeting, click the button below. A member of our team will follow up to discuss residency details.
Past residencies include: Achievement First Crown Heights Elementary ○ AHRC ○ Benjamin Banneker Academy ○ Brooklyn Prospect Charter School ○ Children's Aid College Prep Charter School ○ Christopher Blenman Senior Center ○ IS 75/PS 36 ○ IS 145 ○ Jill Chaifetz Transfer High School ○ Leaders High School ○ Manhattan Comprehensive Night and Day High School ○ Midwood Neighborhood Senior Center ○ MS 61 ○ MS 447 ○ MS/PS 194 ○ Norma Adams Clemons Academy ○ Park Slope Center for Successful Aging ○ Professional Performing Arts School ○ PS 6 ○ PS 16 ○ PS 38 ○ PS 40 ○ PS 77 ○ PS 106 ○ PS 108 ○ PS 131 ○ PS 133 ○ PS 152K ○ PS 169 ○ PS 172 ○ PS 190 ○ PS 209 ○ PS 217 ○ PS 236 ○ PS 280Q ○ PS 311 ○ PS 315 ○ PS 375M ○ PS 705 ○ Repertory Company High School for Theatre Arts ○ Uncommon Schools ○ Urban Action Academy ○ Urban Assembly School of Law and Justice ○ The Washington Market School ○ and many more!

SUPPORTED BY:

Residency