YOU ARE NECESSARY. STAND WITH DANCE!

We count on you to make our essential work possible. Dancewave is a dynamic dance education organization serving approximately 6,000 students of all ages each year. During this challenging and uncertain time, the essential health benefits of dance are more important now than ever before. Your support means the world to us as we work to keep dance programs afloat for students who have been disproportionately impacted by COVID-19.

There are many ways you can support Dancewave:

Checks may be addressed to: Dancewave, 182 4th Ave., Brooklyn, NY 11217
We deeply appreciate your generosity and support. Thank you!
GIFT CERTIFICATES AVAILABLE!

Struggling with virtual gift ideas this season? Give the gift of Dancewave! Our gift certificates allow you to apply any dollar amount towards Youth and Adult (Virtual) Classes, and (On-site) Studio Rentals at Dancewave. Our virtual classes are perfect for learners and dancers of all ages, giving kids, teens, and adults alike the chance to try out exciting dance styles. Celebrate the festive season and purchase for a loved one today:
---
Thanks to your support, we were able to reach our fundraising goal during our Board of Directors' 1:1 Match Event this Fall! Our new Board of Directors matched individual contributions dollar-for-dollar – raising altogether $10,000 for tuition and programming!

Dancewave Board of Directors:
Todd Spillane – Board Chair
Vanessa Williams – Vice Chair
Alan Wen – Treasurer
Tiffany Gibbs – Secretary
Jeso O'Neill – Board Member
Nicole Best – Board Member
Kinjal Parekh – Board Member
Dagmar Nedbal – Board Member
WHAT WE DO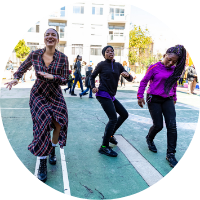 PUBLIC SCHOOL & SENIOR CENTER DANCE RESIDENCIES
Dancewave's School and Community Programs bring dance residencies to public schools, community centers and senior centers across all 5 NYC boroughs. In fiscal year 2020, Dancewave brought an astounding 76 dance residencies to schools and community centers, including District 75 (all abilities), reaching over 6,000 students of all ages. With generous support from the Laureus Foundation, Dancewave is proud to offer its new Race & Dance curriculum for free to select school partners this coming year. Read more
---
PRE-PROFESSIONAL COMPANY
In 1995, Dancewave's founder Diane Jacobowitz began hosting the Kids Cafe Festival, bringing citywide youth to stages at BAM, the Kitchen, and other leading NYC venues to perform the works of world-renowned contemporary choreographers. Established in 2001 as Dancewave Company, our unique program provides rigorous pre-professional training and quality, holistic mentoring grounded in Dancewave's Culture Model for youth ages 7-18. Read more
---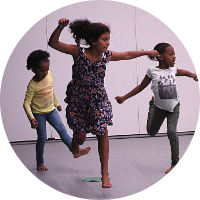 SCHOOL AT DANCEWAVE
Held at the Dancewave Center in Gowanus, Brooklyn, the School at Dancewave provides dance classes and summer camps for youth of all ages and abilities. Classes include Creative Movement, Ballet, Modern, Jazz, African, Hip Hop, Musical Theater and more. Our annual Summer Dance Intensives offer teens from across New York City the opportunity to study intensively for two weeks with renowned dance professionals. Read more
---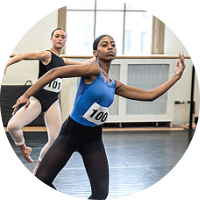 DANCEWAVE THROUGH COLLEGE & BEYOND (DTCB)
DTCB is a dance-specific college fair and career preparatory event serving high school students and up to 60 college dance programs internationally. To date, over $10 million in college scholarships have been offered to DTCB attendees by the participating colleges. This year, Dancewave's college connection event was the only live college fair and virtual audition to persevere through COVID-19, allowing auditionees to submit home videos for consideration by 40 top college dance programs from the safety of home. Co-presented in 2019 and 2020 by Dance Magazine. Read more
---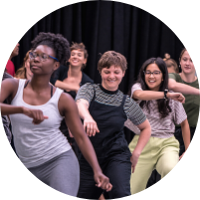 MOVING TOGETHER – FREE CLASSES
At the peak of the pandemic's onset, Dancewave mounted its free all-ages dance classes for the first time to a virtual platform, offering essential health benefits and cross-cultural community connection when it was needed most. This year, 2,500 participants and counting have tuned in from more than 8 countries worldwide. Moving Together provides a dance experience and also educates students on the cultural and historical significance of social dance styles ranging from Bollywood, Dancehall, Lindy and Swing, Arabic Dance, Latin Dance, Modern/Contemporary and dance forms from across the African Diaspora. Read more
---
YOUTH LEADERSHIP COUNCIL
Dancewave's Youth Leadership Council (YLC) has been integral to keeping social justice at the forefront of Dancewave's impact. Through an examination of youth-led historical movements, current events and media influence, Dancewave holds space for youth to dialog, connect and support each other as ambassadors of change and forward thinking. Dancewave's YLC is part of a citywide advocacy program for teens run by NYC Service, in partnership with the NYC Mayor's Office. Read more
---
ARTS EDUCATOR TRAINING
Our Arts Educator training combines decades of teaching experience with our field research from leading hundreds of dance residencies in New York City public schools, community and senior centers over the past 25 years. Each year, Dancewave creates a space where educators can share in an evolving conversation about embodied learning through dance, the arts, and holistic approaches to community building in the classroom. Our 2020 Educator Training focused on cultivating racial equity in the classroom with guest speaker and social justice advocate David King. We expanded our program in fiscal year 2019 with support from the National Endowment for the Arts. Read more
---
ADULT CLASSES & STUDIO RENTALS
Dancewave offers affordable adult classes and studio rentals, creating a community space – both at the Dancewave Center and virtually – that you can count on each week. Adult dance and fitness classes present seasonal class opportunities with compassionate expert teaching artists who care about make dance accessible to a diverse range of bodies and backgrounds. Read more
CONTRIBUTE IN OTHER WAYS

○ Donate auction and raffle items
○ Donate tickets to performances to further Dancewave students' education and breadth of experience
○ Donate services, such as printing and advertising to help reduce the cost of producing our annual events
○ Ask your company to match your donation
○ Volunteer! We can always use extra hands throughout the year at events and during busy times. Visit our Volunteer page to find out more!

Contact development@dancewave.org to learn more about how your contribution can make a difference!
Photo by Rebecca Oviatt/Becca.Vision