Thanks for a great event! Visit our Facebook and Instagram pages for highlights from our performances. Thanks to your generous contributions during Winter Celebration we were able to raise $1500 for Youth Scholarships for 2020! Thank you for your supporting young dancers in need!
Dancewave students perform in December each year for family and friends at a nearby theater in Park Slope, Brooklyn. Join us and enjoy the fruits of our first Fall semester of classes in the brand new Dancewave Center!
Winter Celebration 2019
Date: Saturday, December 14
Times: 3:00pm ○ 5:00pm ○ 7:00pm
Location: PS 133
610 Baltic St, Brooklyn, NY 11217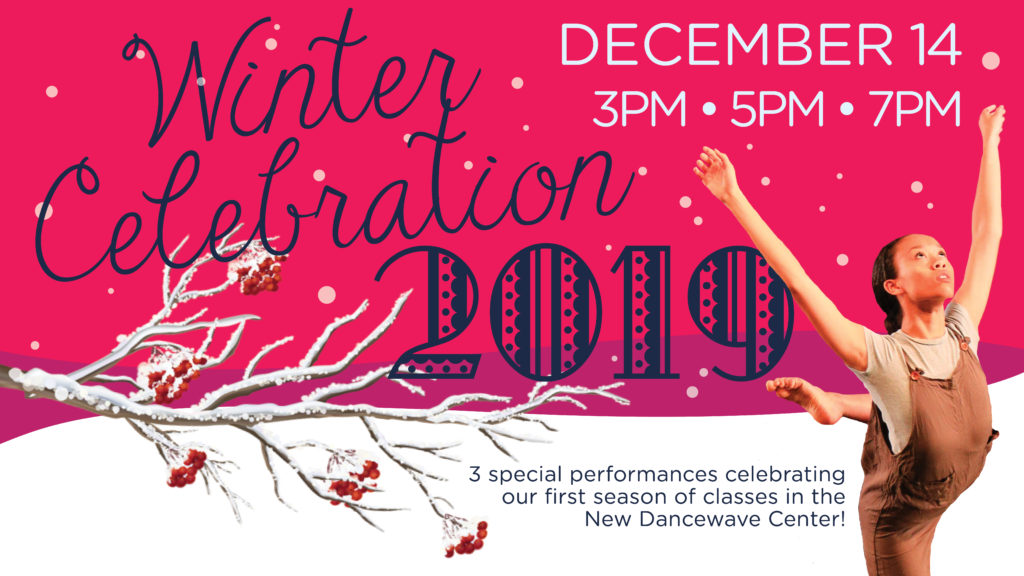 Featuring Performances by: 
3pm: Creative Ballet I (Friday 182); Creative Ballet II (Friday 182); Creative Ballet I (Sat OFC 9am); Creative Ballet I (Sat OFC 10am); Creative Ballet II Saturday; Creative Ballet II (Sat 182 10am); Hip Hop I; Ballet I; Modern I; Creative Modern Company
5pm: Creative Ballet I (Tue); Creative Ballet II (Tue); Creative Ballet I (Wed); Creative Ballet II (Wed); Modern Basics; Hip Hop Basics; Ballet Basics
7pm: Hip Hop II; Modern II; Hip Hop III; Ballet III; Modern III; Pointe IV; Pointe V; Youth Modern Company; Youth Ballet Ensemble; DCIII; DCII; DCI
IMPORTANT PERFORMANCE INFORMATION:

COSTUME FEE:

A $10 costume fee is required for all students participating in the Winter Celebration Performances, participation is optional. Costume measurements will be taken during Family Observation Week, November 2-8.

SCHEDULING:

Call times: Dancers are expected to arrive 10 minutes prior to their tech rehearsal and 30 minutes prior to the start of their performance.
Tech Rehearsal: Dancers and choreographers will run through the dance on the stage together prior to the performance. Dancers must be in-costume for Tech Rehearsal.


DURING THE SHOW:

Students will be supervised by Dancewave Staff and Parent Volunteers throughout the duration of performances. It is strongly encouraged that students stay backstage during the performance to eliminate distribution in the audience. Plus we have a lot of fun backstage!

Parent Volunteers Needed! Please contact school@dancewave.org if you would like to be a parent volunteer!

AFTER THE SHOW:

Dancewave Staff will assist with dismissal from the backstage area immediately following the performance. Please wait in line outside the backstage area to pick up your student after the performance!