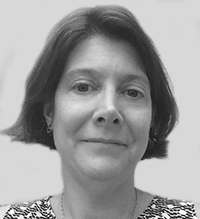 Chair
Dr. Freedman is a long-time Brooklyn resident and community advocate, committed to improving arts, dance, educational opportunities for Brooklyn's youth. Her family has been part of Dancewave for over ten years, her older daughter recently graduated from Dancewave Company I and her younger daughter currently dances in Dancewave Company III and Young Performers Ballet Ensemble. Dr. Freedman serves as Board Chair, on the Development, Audit and Capital Campaign Committees, and has been Gala Chair/Co-Chair in 2015, 2016 and 2017.
Her professional background includes work in public health research and grant-writing at Columbia University and the New York Academy of Medicine, adjunct professor in public policy at New York University, and project management and sales support at Thinkmap (a data visualization software company). She is currently Director of Development at Beam Center in Brooklyn and is co-chair of Forth on Fourth Avenue, a committee of the Park Slope Civic Council.
Dr. Freedman has a BA from New College in Biology and Social Sciences, and holds an MA and PhD from Columbia University in Sociomedical Sciences (Political Science/Public Health).