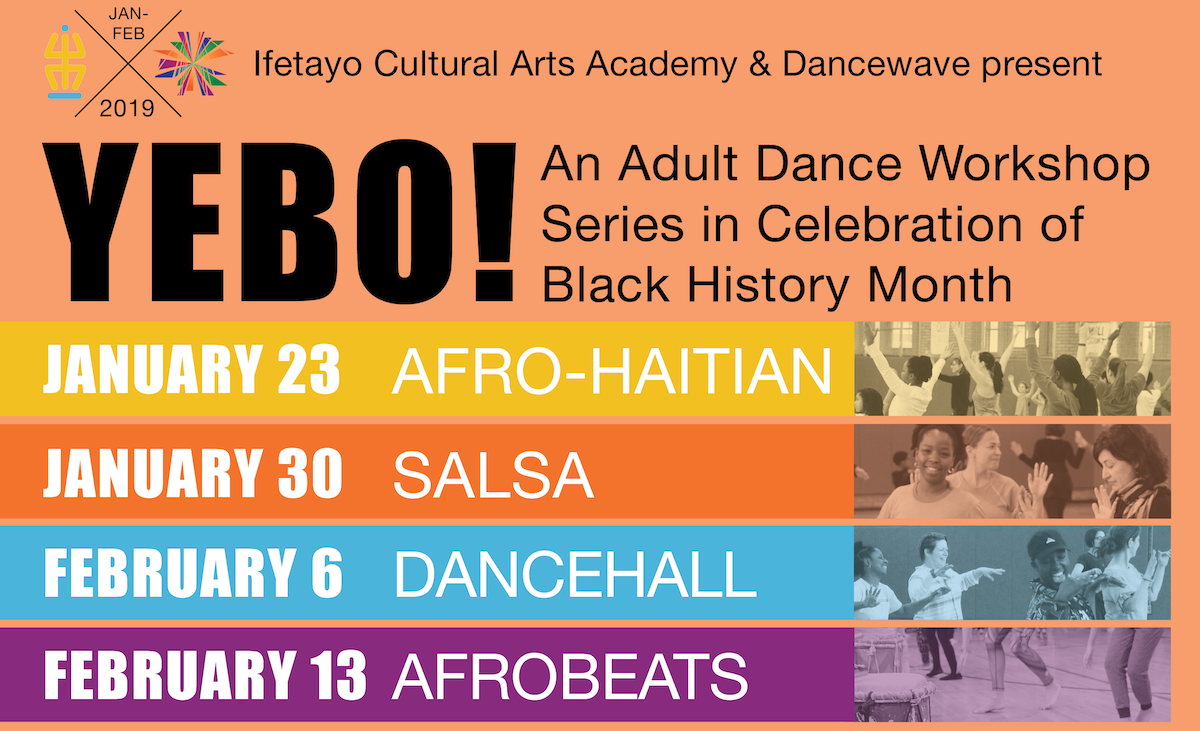 Black History Month Dance Workshop Series
Come celebrate the spirit of Black History Month with Ifetayo Cultural Arts Academy and Dancewave as we bring the fire with these dynamic dance instructors! Workshop series is for adults (18+).
January 23 ○
Afro-Haitian with Fritzlyn

6:30-7:30pm | $10



January 30 ○
Salsa with Marlene

6:30-7:30pm | $10



February 6 ○
Dancehall with Wendell

6:30-7:30pm | $10



February 13 ○
Afrobeats with Thelma

6:30-7:30pm | $10
SOLD OUT!
About the Teaching Artists
Fritzlyn Hector
Fritzlyn Hector a Brooklyn native of African-Haitian descent, is an incomparable performing artist who is one of the most sought after artists of her generation. Fritzlyn is a dedicated accomplished dancer, percussionist, choreographer, director and educator seasoned with a professional multi-dimensional artistic career of 25 years and counting. Fritz's exposure to the city's mélange of creative cultural expressions is clear in her "Fritzation" movement aesthetic. The "Fritzation style" is a perspicuous exhibition of modern dance techniques, hip hop, haitian folklore and her roots in african dance.
Fritz is rehearsal director and one of the principal dancers of the 2017 Bessie Award winner Forces of Nature Dance Theatre Company.  Fritz is also a 18 year 'veteran' of the Off-Broadway smash hit STOMP. As a Stomper, she travels extensively with both the national and international tours, is featured on STOMP billboards, playbills, press and other marketing ads. Fritz currently trains and mentor new cast members in the New York production and occasionally performs in the NY cast or the international touring companies. In February and March 2018, Fritz performed in Australia with the Lost and Found Orchestra (LFO).
Fritz teaches at notable institutions nationwide. Fritz was an adjunct faculty at Hofstra University, is a guest teaching artist at Princeton University, taught at Third Street Music Settlement and is currently co-director of dance studies and full time professor at Long Island Post University.
Marlene Veras
Marlene Veras, a Brooklyn native and member of the NYC Salsa dance community. She has experience in multiple Latin and Ballroom dances including Salsa, Pachanga, Cha Cha, Bachata, Hustle, Kizomba, Hip Hop, Ballroom, and West Coast Swing. With over 10 years of teaching and performing experience. In 2018, she won 1st place for both Pro Just Dance Salsa heat with partner Franklin Liranzo, and Female Soloist Just Dance Salsa at the Canada Salsa Congress. In 2017, at the World Salsa Summit, she became the Salsa On 2 Rising Stars Showcase Champion, with partner Hunter Houde, as well as Triple Threat Champion (Salsa, Bachata, Hustle) at the 2017 International Hustle and Salsa Congress. With partner Darlin Garcia, she has placed in the Top 3 at the 2017 World Salsa Summit, in the Professional Bachata & Cha Cha division.
Wendell Bullen
A professional dancer, choreographer and actor born and raised in Carriacou, Grenada, West Indies, Wendell Bullen started training in Dance as soon as he moved to New York City in 2009.
Wendell has worked with a number of industry professionals including Danny Glover, Dr.Oz, and Nick Cannon for NBC's 2015 Rednose Day Danceathon. You can catch Wendell modeling for popular brands such as Reebok, or traveling, teaching dance workshops through Redbull sponsorship at various IVY league universities (including Harvard, MIT, BU and Berkely College). Wendell has performed with international superstar Janet Jackson and Daddy Yankee for their recently released single "Made for Now". He's also performed with famous singer-songwriter Ne-Yo on popular TV Shows like Good Morning America and Jimmy Kimmel Live.
Wendell's biggest accomplishment to date is performing for Prince William and Dutchess Kate Middleton of England when they visited The Door NYC. Wendell is one of NYC's most notable, versatile and creative choreographers and teachers, holding weekly Dancehall, Hiphop, Freestyle and Breaking classes throughout the NYC tri-state area to students from the age of 3 and up. Wendell has been a regular faculty member teaching Hip Hop dance at Ifetayo Cultural Arts Academy for 4 years.
Thelma Sabi
Thelma Sabi, originally from Douala, Cameroon, began training in Afrobeats during highschool and later on became President/Captain of The University of Maryland's African dance team (Afrochique). With the team, Thelma choreographed Afrobeats, Coupe Décale, and Ndombolo pieces to perform at shows with different artists including Jidenna, True Voice, and other local artists. During and after her years in college, she coached Afrobeats at Eleanor Roosevelt High School. In the Washington, DC, Maryland and Virginia area, (DMV), Thelma has taught several Afrobeats workshops through her own brand Madeforkobina. Since moving to New York in 2018, she continues to create and has worked with various Afrobeats instructors for NYC dance showcases including NYC's Culture Fest.