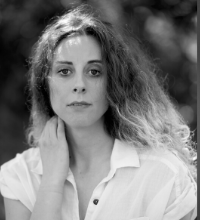 Ballet ○ Modern ○ Pointe

Annalee Traylor is a NYC based creator/choreographer and teaching artist.  She is a high school graduate of the North Carolina School of the Arts and received her BFA from Point Park University. In 2009, she became a founding member of the August Wilson Center Dance Ensemble (top 25 to watch in Dance Magazine in 2012) where she established her professional roots. Touring nationally and abroad, she has had the honor of working with renowned choreographers including but not limited to: Robert Battle, Christopher Huggins, Sidra Bell, Camille A. Brown, Darrell Grand Moultrie, Earl Mosley, Kevin Wynn, and Kevin Iega Jeff. As a freelance dancer, she has performed with multiple companies/projects including No)one Art House, LA Rock Opera, BrockusRED, Clairobscur Dance Co, C. Eule Dance, Pennington Dance Group, and slowdanger.  From 2014-2016, Ms. Traylor was also demonstrator and assistant to Master Ballet Teacher, Mastro Stefan Wenta, in Los Angeles, CA.
Her live work has been presented at multiple curated showcases and venues in Los Angeles, NYC, Pittsburgh, Atlanta, and Rotterdam, Netherlands, and her films have been shown in Seattle, Brooklyn, Rome, Minnesota, and at the American Dance Festival.  She has been commissioned by the 38th Battery Dance Festival, 10th Anniversary of Dance Canvas, REED DANCE, Periapsis Music and Dance, Point Park University International Summer Dance, Texture Contemporary Ballet, and Infra Dance Company of Carnegie Mellon University. Ms. Traylor was a Terra Nova Choreographic resident in Los Angeles, chosen for the Emerging Artist Residency with Periapsis Music and Dance, and a choreographic residency at Highways Performance Space In Santa Monica, CA. This fall, her work will be presented at The Dance Gallery Festivals in both NYC and Texas.
In addition to creating, Annalee feels a personal responsibility to share her passion and knowledge with younger generations. She has taught master classes throughout the United States, at numerous summer intensives, and been on faculty at schools on the east and west coasts. She has choreographed contemporary solos and ensembles that have won the regional Youth Grand Prix and have gone on to perform in the YAGP finals as well as the International Ballet Competition in Jackson. She is currently on faculty of the guiDANCE experience, the only YPAD (Youth Protection Advocates in Dance) certified competition in the world . Traylor is also a certified classical Pilates instructor through prestigious Romana's Pilates.